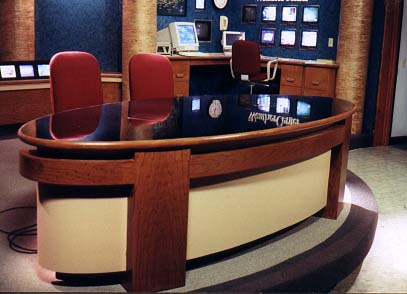 THIS PLANE IS FOR A PRODUCTION OF "WINGS", IT IS A FULL SIZE CURTIS JENNY, 35 FOOT WING SPAN. MADE OF WOOD AND COVERED WITH BROWN PAPER. MOTOR DRIVE PROP TURNS SLOW,100 RPM GOOD ILLUSION. DURING THE PLAY IT WAS LIT WITH YELLOW LIGHT, BLOWN WITH SMOKE, IN FRONT OF A BLACK BACKGROUND. THE LOOK WAS SPECTACULAR!


THIS IS THE NEWS DESK I BUILT FOR KQ-2 IN ST JOSEPH, THE TOP IS PLASTIC LAMINATE MIRROR GLOSS,THE WOOD GRAIN IS VINEER.THE FRONT IS "CURVER BOARD"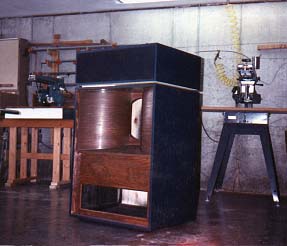 THIS SPEAKER IS A "VOICE OF THE THEATER" BUILT FROM JAMES B LANSING (JBL) DRAWINGS, WE USED REAL ALTEC DRIVERS!